Product Description:
When it comes to reliable and robust cable fastening solutions, stainless steel cable ties definitely stand out. These versatile cable ties offer durability, strength, and a secure hold, making them ideal for a variety of applications. Available in different materials such as 201, 304 and 316 stainless steel, these ties are designed to withstand challenging environments. In addition, they are compatible with multiple tools such as CT02, HT-338, LQB and C002, making them suitable for a wide range of industries. To enhance their performance and longevity, these cable ties are coated with polyester epoxy for an extra layer of protection. With an operating temperature range of -40°C to 85°C, these ties perform well even in extreme conditions. Furthermore, they are available in various lengths, ensuring versatility and customization to user requirements.
If you're looking for a professional-grade solution to your cable securing needs, stainless steel cable ties are the answer you've been looking for. These cable ties are specifically designed to provide a secure, strong hold, making them a reliable choice for a variety of applications.
One of the main characteristics of these cable ties is their material composition. They are available in 201, 304 and 316 stainless steel, each with varying levels of corrosion resistance and durability. 201 material is an economical choice primarily for interior applications, while 304 and 316 materials offer enhanced corrosion resistance to withstand even the harshest environments.
To further enhance its performance, stainless steel ties can be coated with polyester epoxy. This coating provides an extra layer of protection against moisture, chemicals and UV radiation, making these ties suitable for both indoor and outdoor applications. The polyester epoxy coating also adds to the tie's strength and durability, ensuring longevity and reliability in harsh environments.
In terms of compatibility, the stainless steel cable ties can be easily used with a variety of tools, including CT02, HT-338, LQB and C002. This flexibility enables users to select the most suitable tool for their specific application and ensures efficient and safe fastening.
Additionally, these ties have an impressive operating temperature range of -40°C to 85°C. This means they can withstand extreme heat or cold without compromising their integrity, making them perfect for applications in industries such as aerospace, automotive, construction and marine.
Available in various lengths of stainless steel ties (from 100 and up), providing users with versatility and customization options. Whether you need a shorter length to secure cables in tight spaces or a longer length to secure larger projects, these cable ties can easily fit your needs.
In conclusion, stainless steel cable ties are a professional-grade solution that combines strength, durability, and versatility. With wide tool compatibility, polyester epoxy coating and wide temperature range, these cable ties can handle the toughest applications with ease. Invest in stainless steel cable ties for your fastening needs and experience the reliability and peace of mind that comes with using a quality product.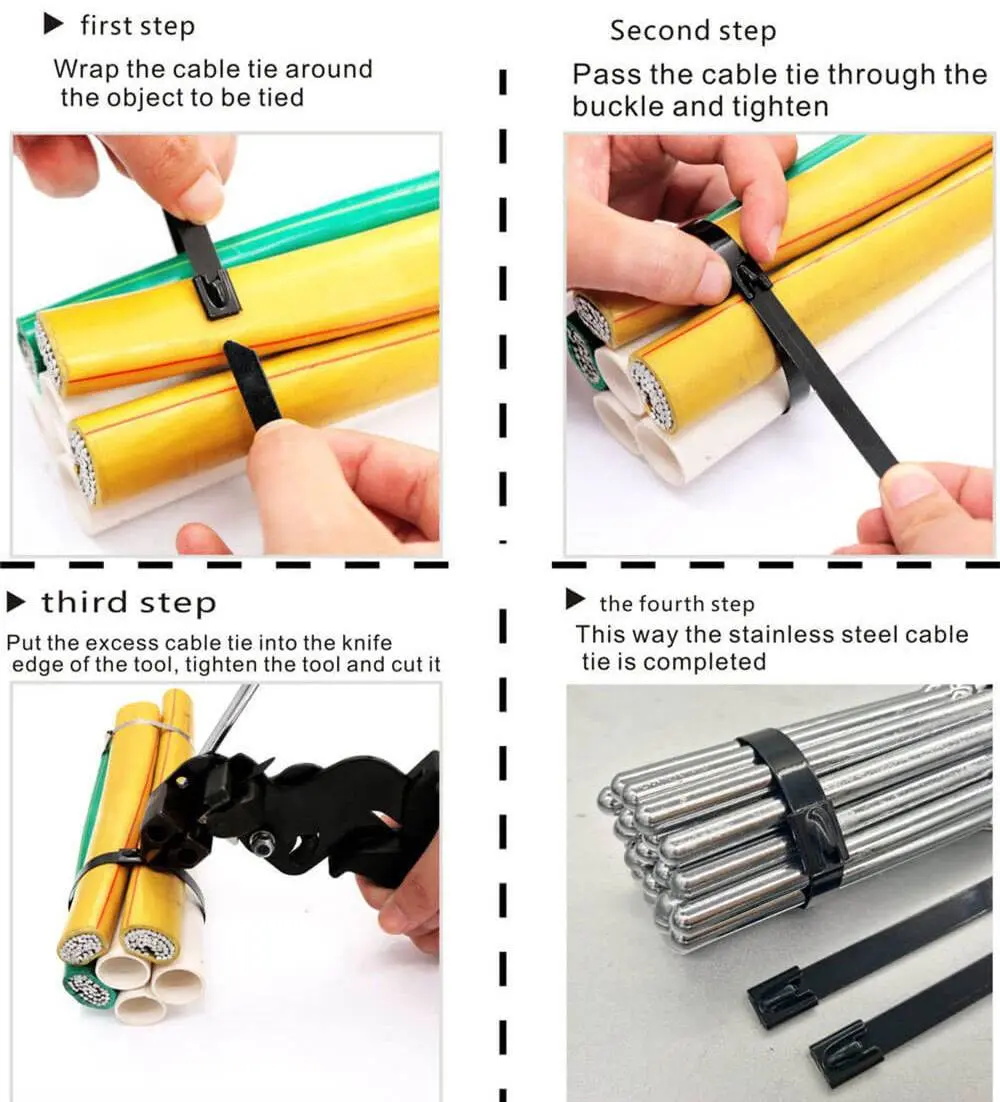 ---
Post time: Jun-29-2023